The Garcia Project LIVE STREAM CONCERT at The Narrows on October 30, 2020
Friday -
October
30,
2020
8:00 PM
The Narrows
Fall River, MA
Live Stream: The Garcia Project
Narrows Center for the Arts Fall River, MA
Free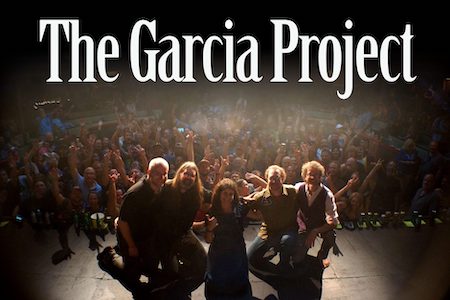 The recent rise of COVID-19 cases around the state, and in Fall River, require us to pause our in-person shows at this time. While this is disappointing, we are committed to the safety of our patrons and staff. Hopefully, things will calm down and we can resume in-person concerts soon. Ticket purchases will be automatically refunded to the credit card on file.
The LIVE STREAM event will take place as scheduled at 8:00 pm.
Live Stream Concert Series
Enjoy a live concert from the comfort of your own home! Every Friday night at 8pm, tune in to our YouTube channel for a live streamed concert. The shows are free to watch, but donations are appreciated and will be split 50/50 between the Narrows Center and that night's artist(s). Interested in making a donation? Visit our PayPal or Venmo us at @Narrows-Center.
THE GARCIA PROJECT
Praised by Dennis McNally, the press, and fans, The Garcia Project has been recreating classic Jerry Garcia Band setlists with stunning accuracy and detail across the country for the last 10 years. They also just finished their new album called "Spirit: a tribute to Jerry Garcia and the spiritual songs he performed," produced by Maria Muldaur and featuring Jerry Garcia's bandmates Peter Rowan, Jacklyn LaBranch, Buzz Buchanan and Maria Muldaur. The Spirit album and the digital download is also available now at www.thegarciaproject.com/spirit.
The only nationally touring tribute to the Jerry Garcia Band that performs full, classic setlists from 1976-1995
Celebrating 10 years of performing full, classic Jerry Garcia Band setlists from 1976-1995!
The Garcia Project's performances are based on actual set lists performed by The Jerry Garcia Band. All of their shows are classic recreations of a Jerry Garcia Band setlist from the 1976 to 1995. For anyone that never had a chance to experience the Jerry Garcia Band or for fans that want to relive a classic show, The Garcia Project delivers.
The Garcia Project has received rave reviews from the press and from fans. Touring nationally, The Garcia Project has made many Jerry Garcia fans extremely happy.
With precise arrangements and the proper instrumentation and feel for any and all given eras, The Garcia Project faithfully channels and projects the feelings, emotions and music that propelled the Jerry Garcia Band and the fans through many years of musical bliss. It's about family, soul searching, rejoicing, contemplating, celebrating, seeking truth and loving one another.
----------
"I spent a lot of nights in a lot of places with the Jerry Garcia Band, and I'm here to say that I really enjoy what The Garcia Project does with those memories. Mik's guitar and his and Kat's vocals stir up some very sweet vibes...some times they almost make me feel like I'm back in, say, 1992 at the Warfield. Check 'em out."
— Dennis McNally, former publicist for the Grateful Dead and The Jerry Garcia Band
"For those of us who crave late 70's (and through the 80's and 90's) Jerry Garcia Band, The Garcia Project scratches that itch for hearing live renditions of Jerry Garcia Band shows from that period."
— Bob Minkin, legendary Grateful Dead and Jerry Garcia Band rock photographer
"I first met Jerry Garcia in 1974 when he asked me to sing harmony with him on his second solo album and started recording and sitting in with The Jerry Garcia Band whenever possible. I became an official member of The Garcia Band in 1977 through 1979 recording, gigging and touring with them, and have many fond memories of that unique experience! Recently, I was asked to sit in with a wonderful band called The Garcia Project, who lovingly and reverently recreate different specific sets of the Garcia Band in their hayday. They don't merely recreate Jerry's music, as far as I'm concerned, they are channeling it. Performing with them, I am moved and touched by how much the music moves the audience into a state of joyous community and rapture. The Garcia Project brings us all back to that special time and I'm excited and blessed to participate in giving new and old audiences alike, the chance to relive the Spirit & Magic of the Jerry Garcia Band."
— Maria Muldaur
"If you close your eyes, you'll swear you are at a Jerry Garcia Band show."
– ecoLocal Magazine, Albany, NY
"...it was hard to tell that it wasn't Jerry signing on "The Night They Drove Old Dixie Down"...The Garcia Project's attention to detail on intonation and performance structure does set them apart as an authority on Jerry Garcia."
– NYS Music
"In order for a tribute band to be successful, fans need to look at them as the authority on the artist they are emulating. The Garcia Project pulls it off effortlessly. Go see them live ...The Garcia Project is the whole package."
– Jim Gilbert, Upstate Live
"The Garcia Project was on point with the whole experience and it didn't seem like a cover band more like a mirrored band...they are just as real as the Jerry Garcia Band."
– Buffalo FM Review
"'Deadicated' to carrying on the music and vibe of Jerry that so many still carry in their hearts."
– Albany Times Union